My latest magazine sales include a few poems to HIGHLIGHTS HELLO. :0) (The first appears in "a creepy-crawly" Hello, Summer, 2018.)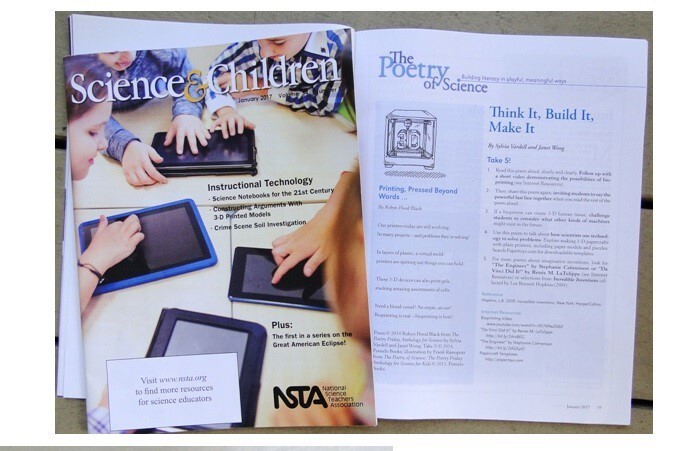 My poem, "Printing, Pressed Beyond Words," from The Poetry Friday Anthology for Science (Pomelo Books) ALSO appears in the January 2017 issue of Science & Children, published by the NSTA (National Science Teachers Association). PFA Anthology creators Sylvia Vardell and Janet Wong have a great column called "The Poetry of Science" in the journal.
My poem, "Gray Fox," appears in the Nov./Dec. 2012 issue of LADYBUG magazine.
Haiku: My haiku has appeared in Frogpond, Notes from the Gean, Modern Haiku, The Heron's Nest, Acorn, Prune Juice, A Hundred Gourds, and Chrysanthemum.

For many years I've been a contributing writer for the CORE ESSENTIALS character education curriculum, primarily writing the animal descriptions which link to each month's featured value. (Twist my arm to write about animals!) The program, designed for grades K-5, seeks to "create a culture of caring, respect, and personal responsibility."
In her life B.C. (Before Children), Robyn wrote hundreds of feature stories for local publications, primarily on the arts, education, and animals.

Copyright ©2005-2019 Robyn Hood Black. All rights reserved. Please ask permission before using any text or images on this website, except for reproducible
"4 Kids 2 Do" and "Press Kit" pages.