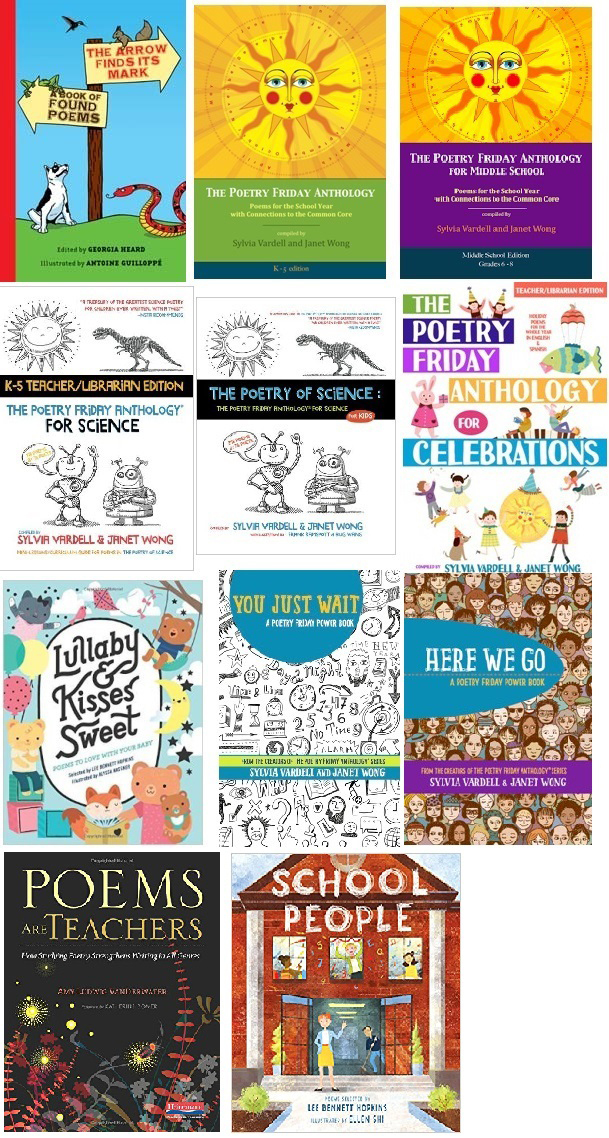 Robyn's poetry appears in Sylvia Vardell's and Janet Wong's The Poetry Friday Anthology series and first two Poetry Power Books (Pomelo Books), in Georgia Heard's anthology, The Arrow Finds Its Mark - A Book of Found Poems, (Roaring Brook Press), and in Lullaby and Kisses Sweet compiled by Lee Bennett Hopkins (Abrams), Poems are Teachers by Amy Ludwig VanDerwater (Heinemann), School People by Lee Bennett Hopkins (Wordsong, 2018) as well as a new National Geographic anthology, The Poetry of Us, by J. Patrick Lewis.

Her work has been published in Ladybug, Hopscotch, Highlights Hello and in leading haiku journals and a handful of haiku anthologies. In 2016-17 she served as Southeastern Regional Coordinator for the Haiku Society of America and coordinated an Earth Day weekend workshop/meeting in April 2017.


Robyn coordinated a poetry retreat with Rebecca Kai Dotlich in June 2011 and has led several haiku workshops. She'll lead a haiku-writing class for the Beaufort, SC OLLI program in November, 2018. She appeared on a poetry panel with Irene Latham and April Halprin Wayland at the Fay B. Kaigler Children's Book Festival in April 2013.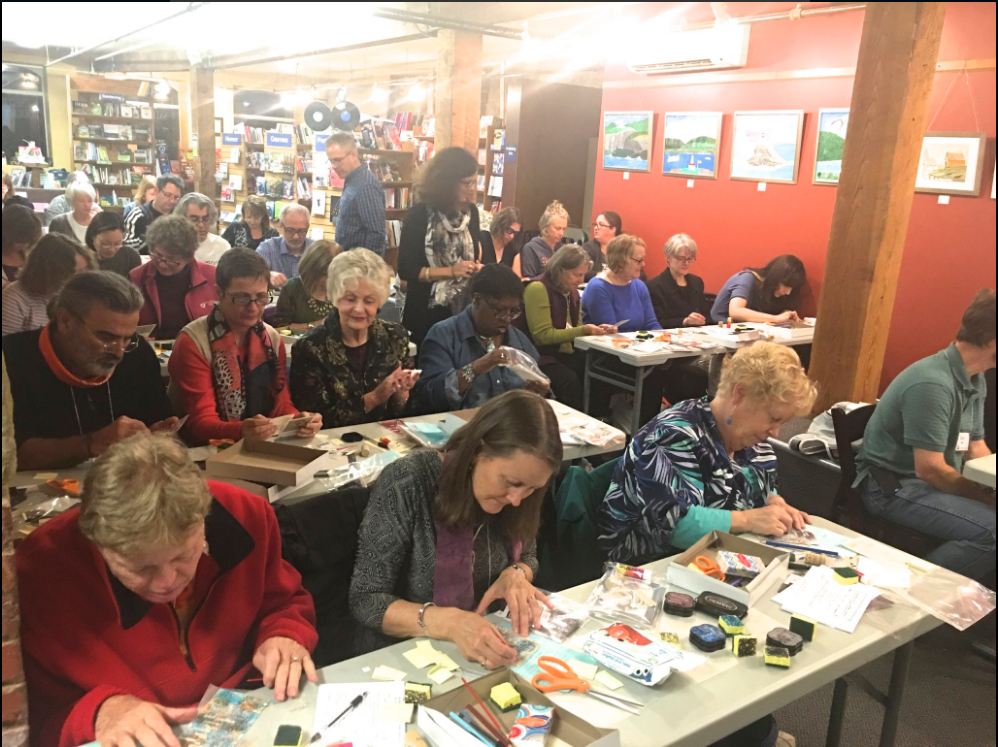 In the fall of 2016, Robyn led a "Found Poem Makerspace Workshop" for dozens of fellow children's poets and the public at Village Books in Bellingham, Washington, the night before Western Washington University's
Poetry Camp
. Click
here
for the post about it on my
artsyletters
blog!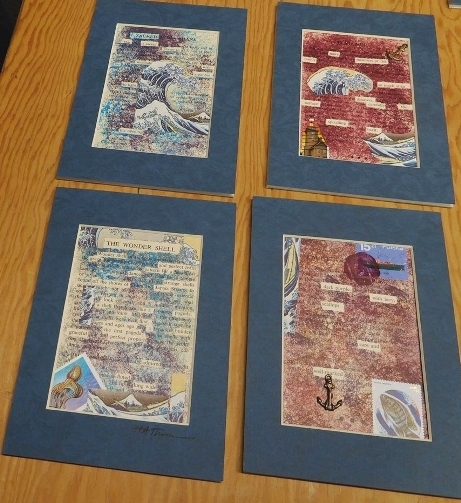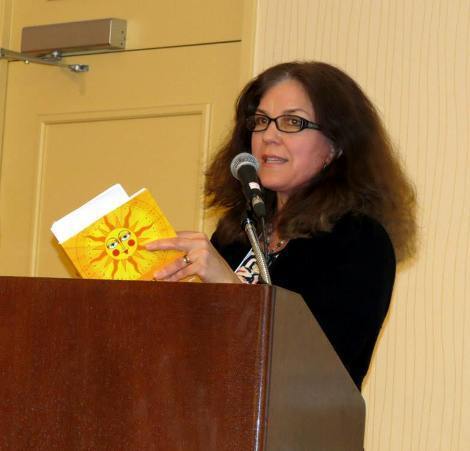 The Poetry Friday Anthology for CelebrationsThe latest BIG Poetry Friday Anthology is all about CELEBRATIONS, with 150 or so poems for K-6, and a student edition as well. Please click the cover at left for ordering information. Click here for my blog interview with creators Sylvia Vardell and Janet Wong. [I'm thrilled to have contributed a poem, plus another for a supplemental activity.]
Also, while perusing the POETRY FRIDAY ANTHOLOGIES, check out the POETRY FRIDAY FOR SCIENCE STUDENT REMIX!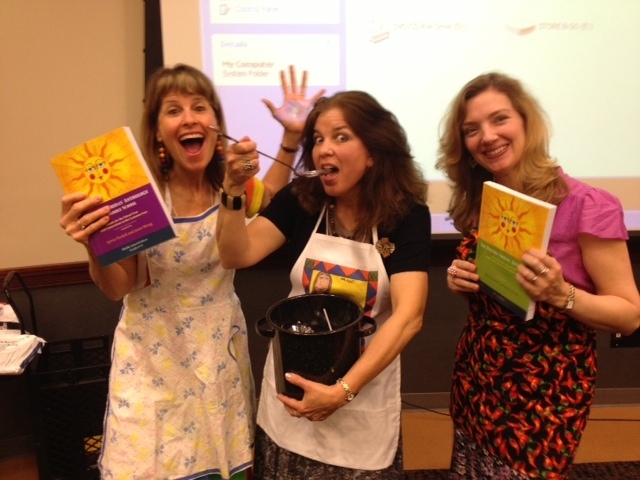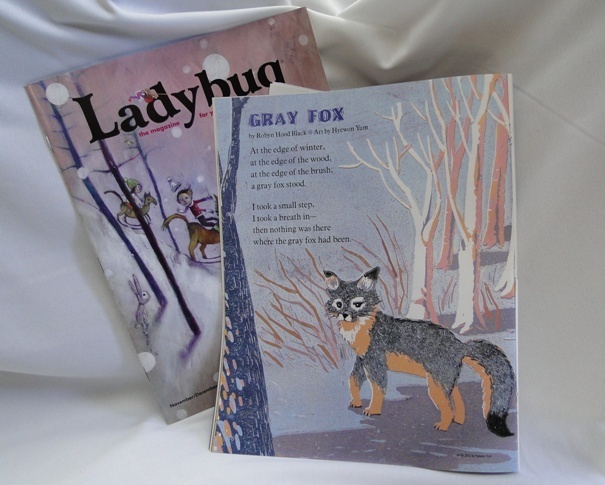 My poem, "Gray Fox," appeared in the Nov. - Dec. 2012 issue of LADYBUG. It has a wonderful illustration by Hyewon Yum. Click the photo on right to access the TEACHER'S GUIDE. (Scroll about half-way down the page to find suggestions for my poem.)
Click HERE to read my blog feature about this poem.
March 2013 - Hats off to Hyewon Kim for winning the Ezra Jack Keats New Illustrator Award, which is presented at the Hattiesburg conference I referenced above re. our poetry panel. :0)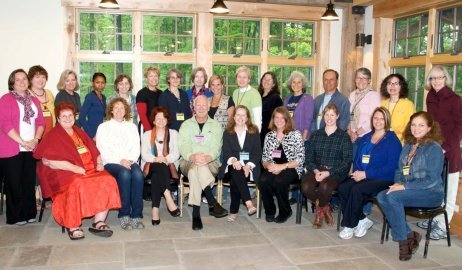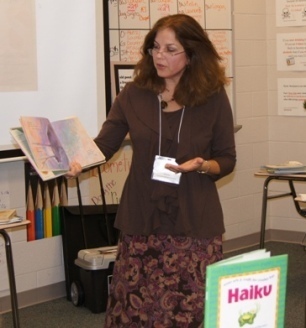 The SCBWI Southern Breeeze DIVING INTO POETRY retreat I coordinated with Rebecca Kai Dotlich, June 10-12, 2011 in Dahlonega, Ga., was a hit! Enjoy a few pictures....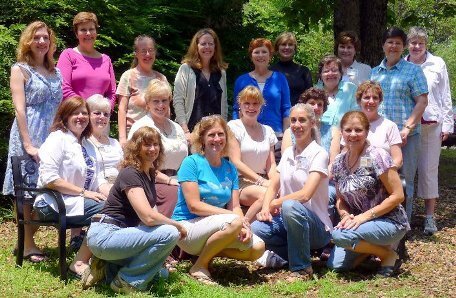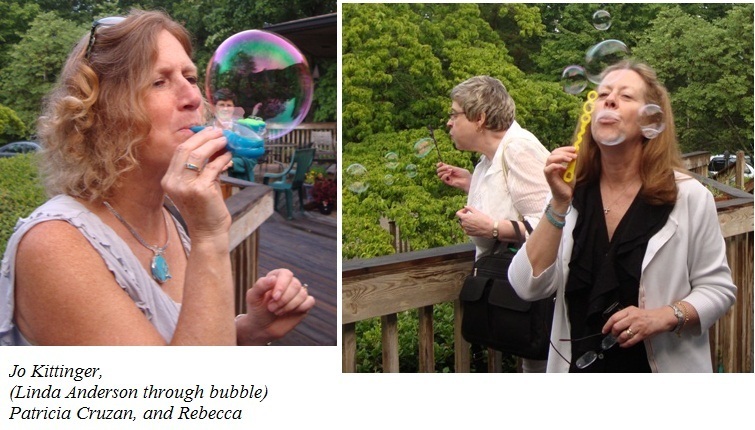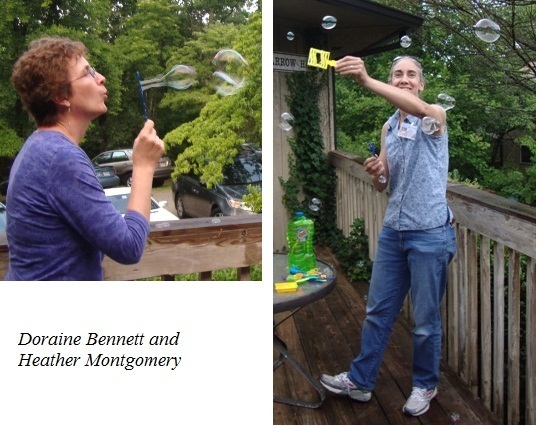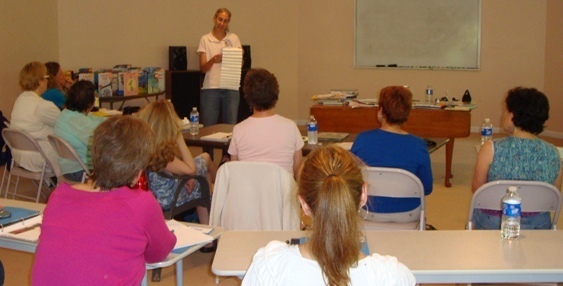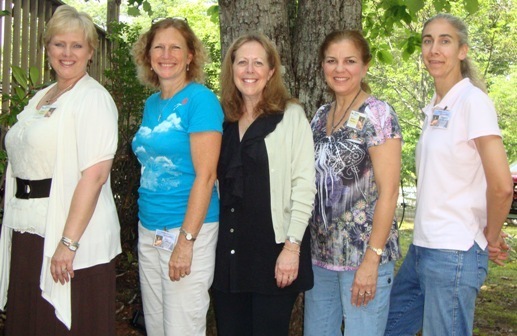 *************************************************************************
Here's a slithery little poem, an answer to a poetry challenge on the Miss Rumphius Effect blog. Enjoy - and watch your step!


S

Serpentine S
goes this way and that
Trail in the sand
Tail of a cat

Slithering S
goes that way and this
Starts every snake
Ends every hiss

©Robyn Hood Black
All rights reserved.


Scroll down and around to read some more poetry. But first, enjoy these photos from the "Wordplay" Highlights Founders Workshop in September 2009 (led by prolifically poetic Rebecca Kai Dotlich).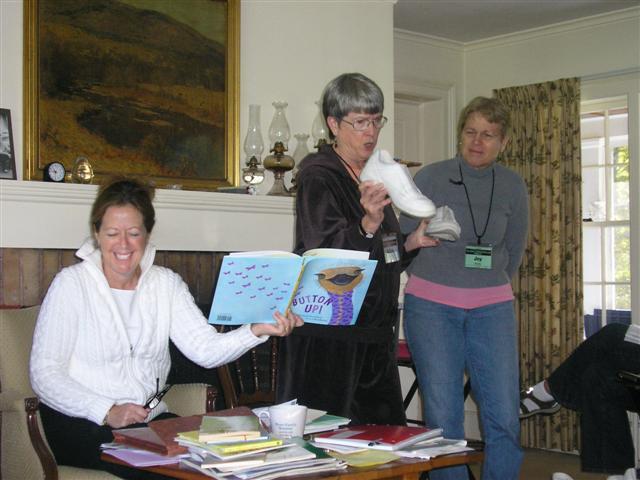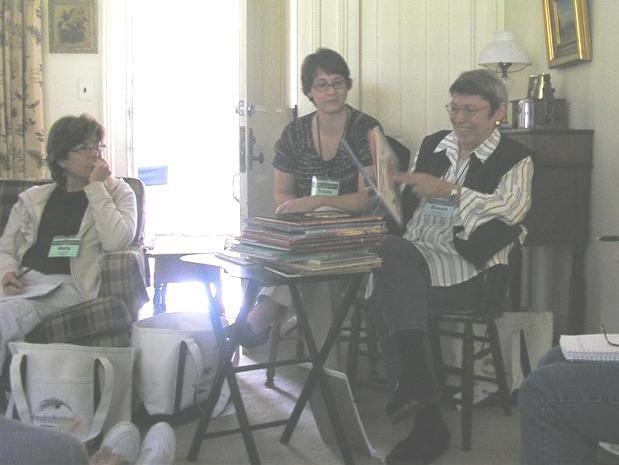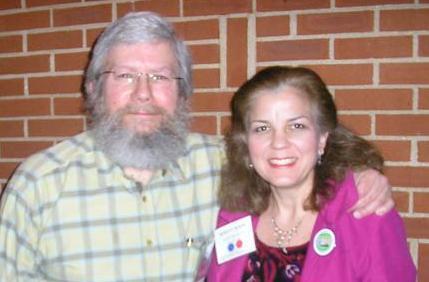 What a thrill to meet award-winning poet and anthologist Paul B. Janeczko at the 40th Annual Conference on Children's Literature at the University of Georgia (March 2009)! "Good poetry explodes with possibilities," he says.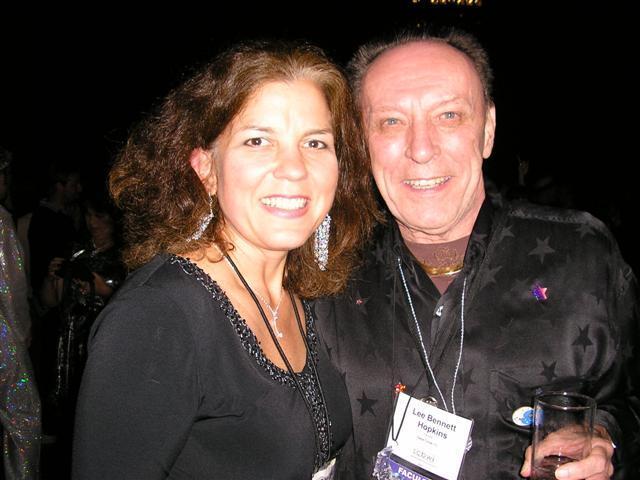 How to Buy a Book of Poetry
Copyright Robyn Hood Black. All rights reserved.

I prowl around displays of stacked-up books,
a quiet hunger gnawing deep inside.
Some volumes catch my silent, stealthy looks,
while slowly stalking now, I must decide.
A vibrant cover takes my breath away -
I linger, stop, then claim it with my hand
to seize the book, a panther with her prey -
surveying what she knows to be her land.
While poems leap from pages crisp and new,
lines capture my attention as I read
their sparkling thoughts, at once unreal yet true -
mystical, magic words my deepest need.
A hunter with her prey? I'm not so free.
This poetry I bought - it now owns me.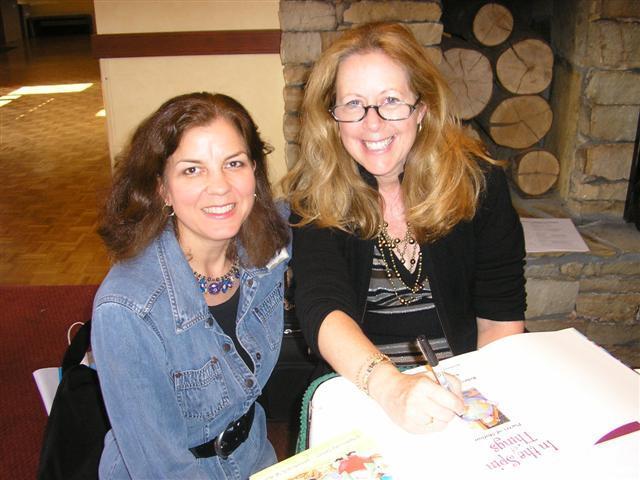 Rebecca Kai Dotlich came to the Voices in Children's Literature conference in Georgia in late 2007, and I took every workshop she offered! Her Highlights Founders Worskhop in Sept. 2009 was terrific as well, and I joined her again there for "Poetry for All" in 2012. I also brought her to Georgia for an SCBWI Southern Breeze retreat in 2011! Explore her love for lyrical language in her many books and her poems in anthologies.
I Paper-trained my Puppy


I paper-trained my puppy -
he reads the New York Times.
He starts at the beginning:
the news, the views, the crimes.

Then he reads the comics,
while rolling on the floor.
He moves on to the book reviews,
the fashion, arts, and more.

After that he grabs a pen
and holds it with his muzzle.
He won't get up until he's done
the daily crossword puzzle.

I paper-trained my puppy.
I made one small mistake.
The puddle in the corner
is looking like a lake.

Copyright Robyn Hood Black. All rights reserved.

Heel

A hound dog is hard
to train.
Nose on the ground, he sniffs, he pulls -
You strain.
Nose in the air as if you're not there -
You complain:
This dog has got to go!
He looks at you with soulful eyes;
you fall in love
(again).

Copyright Robyn Hood Black. All rights reserved.

Copyright ©2005-2019 Robyn Hood Black. All rights reserved. Please ask permission before using any text or images on this website, except for reproducible
"4 Kids 2 Do" and "Press Kit" pages.